25. september 2023
Mediterranean chefs present their winning salted fish dishes in Iceland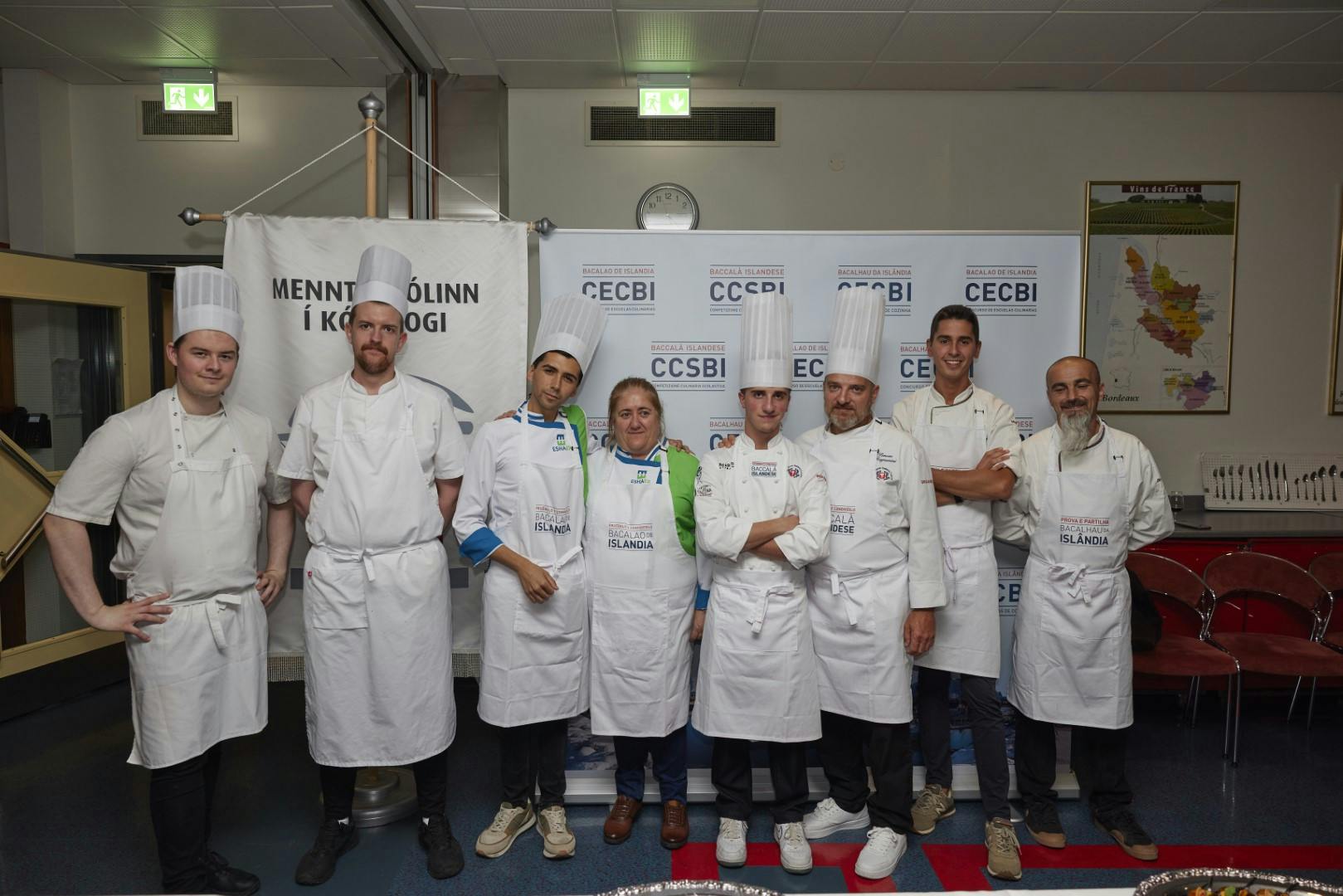 The winners of the CECBI cooking competition from Spain, Portugal, and Italy, together with their instructors.
It is hard to beat the combination of world-class chefs and Icelandic salted fish! The culinary student winners from Italy, Spain, and Portugal served their winning dishes made from Icelandic salted fish (Bacalao de Islandia) at the Hospitality and Culinary School at Kópavogur College (Menntaskólinn í Kópavogi) on September 19. The presentation was a collaboration between Kópavogur College and Business Iceland's Bacalao de Islandia, a project to promote Icelandic cod in Spain, Italy, and Portugal. In recent years, the project's primary focus has been cooperating with cooking schools, where future chefs develop their fish dishes with innovative techniques and traditional ingredients. Part of that collaboration is with CECBI (Concurso Escuelas de Cocina Bacalao de Islandia) in organizing a nationwide cooking competition where Icelandic saltfish is the main ingredient. This is the third occasion that the competition has taken place, and it is now an established event for culinary students in these countries.
In Southern Europe, Icelandic saltfish has been known for centuries for its premium quality. Salted cod is the foundation of many national recipes and is even a dish for Christmas in many homes. "It is a great pleasure for us to visit your beautiful country and to get to know the origin of the fish, which we know so well. Hopefully, we can share and leave behind some of our culinary traditions along the way," said Francisco Orsi, one of the students from Bologna, Italy.
Joining Francisco were winning chefs Gonçalo Pereira Gaspar from Portugal and Diego Antonio Chavero Rosa from Spain. Part of winning the competition was a group trip to Iceland with their teachers. They recreated their winning dishes at the Hospitality and Culinary School at Kópavogur College with mouthwatering samples for guests to taste. These fantastic meals included Diego's "Malagan afternoon snack," Goncalo's "Massada de Bacalhau," (massada is a seafood pasta dish), and Francisco's "Cod in oil with mayonnaise, spinach beurre blanc, milk and dried fruit." In addition, Icelandic students in the school prepared their interpretations of salted fish delicacies. The master of ceremonies was Fanney Dóra Sigurjónsdóttir, chef and owner of the restaurants Hnoss and Hjá Jóni.
The day after the reception, the group headed to the Westman Islands, where they toured VSV's (Vinnslustöðin Vestmannaeyjar) saltfish processing facility and visited aboard one of the company's fishing vessels. The chefs could see the fishing grounds, the boats, and the fish processing facilities all the way to the kitchens and the table. Afterward, it was their chance to be served delicious fish from local restaurants Næs and Einsi Kaldi. 
Below are some photos from the visit.