21. ágúst 2023
Horses of Iceland at the World Championships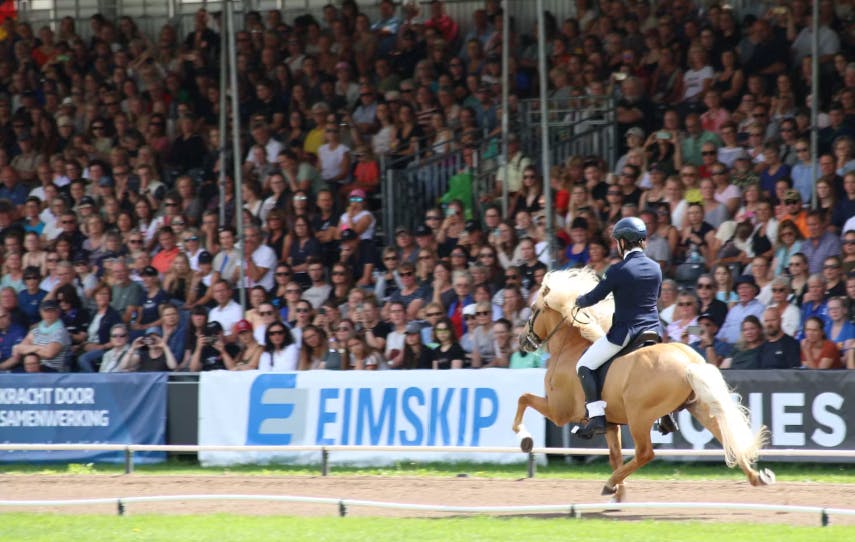 Horses of Iceland is a strategic marketing plan developed by stakeholders in the Icelandic horse community to increase awareness and strengthen the image of the Icelandic horse in international markets. 
Horses of Iceland went to the Netherlands for the World Championships for Icelandic Horses, which took place on 8-13 August in Oirschot, The Netherlands.
Representatives from 13 countries were competing this year and there were also visitors from other countries such as Romania and New-Zealand, in the Horses of Iceland tent. This international gathering is so important to those who want to see the Icelandic Horse thrive all over the world and, where they can also use the opportunity to meet old friends, make new ones and create new ties between countries.
The riders showed great sportsmanship and the audience rejoiced at all the beautiful presentations. One great aspect was also the palpable compassion throughout the grandstands when bad luck struck on the track, no matter the performer's nationality. That is the perfect reflection of the Icelandic horse community: one that stands together, helps each other out, and burns for the Icelandic horse.
During the event, Horses of Iceland hosted the following companies in their tent: FEIF, IPZV, Icelandair Cargo, WorldFengur, Landsmót Hestamanna 2024, Íslensk.is and Bertha Kvaran Art. Icelandair Cargo was also the host of Horses of Iceland's mutual partners: Export Hestar, Fákaland Export and Hestvit.
On the Horses of Iceland side, the aim was to meet Icelandic horse enthusiasts, tell them about the project and make contact with potential new parners.
A few gatherings were held in the tent such as a live music event with Stjáni Stuð, a Hot Dog party hosted by IPZV, a gathering for the riders of the ride from Germany to Oirschot hosted by IPZV and FEIF, another one for the riders of the virtual ride hosted by FEIF, and a Meet and Greet event hosted by the French national team. Horses of Iceland also hosted a presentation of the Equine department at Hólar University by Master trainer Þórarinn Eymundsson where Icelandic dried fish, water, candy and cold Dutch beer was served.
Also see the website of Horses of Iceland
Below are some images from the Championships